Clinical Medicine (Klinicheskaya Meditsina)
Журналы
---
Launch Year: 1920
Founder:
Regional Public Organization "Society for the Study of Hypertension"

Frequency: 12 issues per year

The journal is indexed in the following international reference and information services: Adis International Ltd. Reactions Weekly, Chemical Abstracts (Print), Chemical Industry Notes, Chemical Titles, Derwent Biotechnology Abstracts, Elsevier BV EMBASE, Excerpta Medica. Abstract Journals, Index Medicus, Index to Dental Literature, Index to Scientific Reviews, National Library of Medicine PubMed, OCLC MEDLINE, Reactions Weekly (Print), Thomson Reuters Arts and Humanities Search, Ulrich's International Periodical Directory, Journal of the Russian Institute for Scientific and Technical Information of the Russian Academy of Sciences (Referativnyi Zhurnal VINITI RAN), Scientific Electronic Library (http://www.elibrary.ru), Russian Science Citation Index (RSCI).


---
Recommendation for the Conduct, Reparting, Editing and Publication of Scholary Work in Medical Journal
Appeal
Procedure of removing of published articles
Advertising policy
Reviewing Procedure
The
Clinical Medicine
Journal is listed among Russian peer-reviewed scientific journals approved by the Higher Attestation Commission of the Russian Ministry of Education and Science for
Kandidat Nauk
and
Doktor Nauk
Degree Awards*. The journal is included in international data systems and databases. Therefore, the authors are required to make sure that their submission is in strict compliance with the
Requirements for manuscripts submitted in journal and publication ethics statement
*The Russian academic degrees of Kandidat Nauk and Doktor Nauk are equivalent to PhD.
Manuscript Submission:
OAO Izdatelstvo Meditsina, 5 (bld. 14) Novoostapovskaya St., 115088, Moscow, Russia
Editorial Office of the Clinical Medicine Journal
Email:
klin.med@idm.msk.ru
We draw your attention to the fact that the cost of preparing an article for publication (scientific and literary editing, editing of translations, working with drawings and bibliography) is 5 thousand rubles.
Editor-in-chief:
Vladimir B. Simonenko, MD, PhD, Prof., Corresponding Member of the Russian Academy of Sciences, Major-General of Medical Service, Head of the Department of Therapy and Postgraduate Medical Training, Medical Scientific-Educational Clinical Center named after P. Mandryka (Moscow, Russia)
Editorial Board & Editorial Advisory Board
The journal covers major issues in clinical medicine, focusing on the diagnosis, pathogenesis, prevention, treatment, and clinical signs and symptoms of diseases. It also discusses numerous ethical, philosophical, and social hygiene issues. Among other topics are the history of medicine and the training of, and refresher courses for, healthcare practitioners.
The journal publishes original articles and reviews that cover current advances in the fields of theoretical and practical medicine in Russia and the rest of the world. Material on issues of importance to practicing doctors appears in a special section of the journal. Among the types of contribution published are reviews of monographs, guidelines, and textbooks devoted to various branches of medicine, as well as information on conferences, congresses, and the work of scientific societies.
The journal is designed for doctors working in a variety of fields (therapy, surgery, neurology, radiology, infectious diseases, phthisiology, etc.), academics employed by medical colleges and extension course institutes, and medical researchers.
The journal has been awarded the diploma of I degree in 1968, 1975, 1990, honorary certificate in 1995, Insignia "Golden Press Fund" in 2006.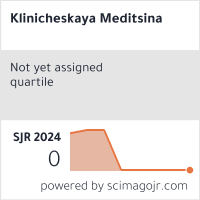 Full-text articles are available on the website of the Scientific Electronic Library