Hematology and Transfusiology (Gematologiya i Transfusiologiya)
Журналы
---
ISSN: ISSN: 0234-5730 (Print) ISSN 2411-3042 (Online)
Gematologiya i Transfusiologiya
Launch Year: 1956
Founders:
Hematology Research Center of the Ministry of Healthcare of the Russian Federation,
Regional Charitable Foundation for Patients with Severe Disorders of the Blood System "Hematology and Intensive Care"

Frequency: 4 issues per year

The journal is indexed in the following international reference and information services: Abstracts of Mycology, Adis International Ltd. Pharmacoeconomics and Outcomes News (Print), Adis International Ltd. Reactions Weekly, Chemical Abstracts (Print), Chemical Industry Notes, Chemical Titles, EBSCOhost Biological Abstracts (Online), Elsevier BVScopus, Index Medicus, Inpharma Weekly, National Library of Medicine PubMed, Personal Alert (E-mail), Pharmacoeconomics and Outcomes News (Print), Reactions Weekly (Print), Thomson Reuters Biological Abstracts (Online), Thomson Reuters BIOSIS Previews, Thomson Reuters Current Contents, Thomson Reuters Science Citation Index Expanded, Thomson Reuters Web of Science, Ulrich's International Periodical Directory, Journal of the Russian Institute for Scientific and Technical Information of the Russian Academy of Sciences (Referativnyi Zhurnal VINITI RAN), Scientific Electronic Library (http://www.elibrary.ru), Russian Science Citation Index (RSCI).


---
Recommendation for the Conduct, Reparting, Editing and Publication of Scholary Work in Medical Journal
Appeal
Procedure of removing of published articles
Advertising policy
Reviewing Procedure
The
Hematology and Transfusiology
Journal is listed among Russian peer-reviewed scientific journals approved by the Higher Attestation Commission of the Russian Ministry of Education and Science for
Kandidat Nauk
and
Doktor Nauk
Degree Awards*. The journal is included in international data systems and databases. Therefore, the authors are required to make sure that their
submission
is in
strict compliance
with the
Requirements for manuscripts submitted in journal
and
publication ethics statement
*The Russian academic degrees of Kandidat Nauk and Doktor Nauk are equivalent to PhD.
Manuscript Submission:
OAO Izdatelstvo Meditsina,
Editorial Office of the journal "Haematology and transfusiology"
5 (bld. 14) Novoostapovskaya St., 115088 Moscow, Russia

e-mail: RBelGT@idm.msk.ru
Editor-in-Chief
Andrey I. Vorobyov, MD, PhD, Academician of the Russian Academy of Sciences, Prof., Chief Research Consultant, Department of Chemotherapy and Critical Care for Patients with Blood Disorders, Hematology Research Center (Moscow, Russia)
Editorial Board & Editorial Advisory Board
The journal publishes original theoretical and clinical studies, lectures, reviews, and practical notes concerning various problems of hematology and clinical and industrial transfusion. The journal provides information on the etiology, pathogenesis, diagnosis and treatment of blood disorders as well as on related non-hematological conditions (internal diseases, poisoning, exposure to ionizing radiation etc.). The journal covers the latest advances in immunohematology, preservation, and transplantation of bone marrow, focusing on such aspects as blood donation, the setting up of new blood transfusion offices, and the production of plasma and blood components to treat different diseases.
In recent years, the journal has become an international forum for many hematology societies and associations to disseminate their materials.
The journal is addressed to hematologists, researchers, transfusiologists, blood transfusion officers, laboratory doctors, general practitioners, surgeons, pediatricians, anesthesiologists, intensive care specialists, experts in physiology, pathophysiology, pathology, allied healthcare disciplines, and other specialists interested in blood disorders and blood transfusion.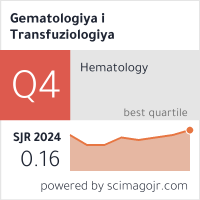 Full-text articles are available on the website of the Scientific Electronic Library