Problems of Virology (Voprosy Virusologii)
The
Problems of Virology
Journal is listed among Russian peer-reviewed scientific journals approved by the Higher Attestation Commission of the Russian Ministry of Education and Science for
Kandidat Nauk
and
Doktor Nauk
Degree Awards*. The journal is included in international data systems and databases. Therefore, the authors are required to make sure that their
submission
is in
strict compliance
with the
Requirements for manuscripts submitted in journal and publication ethics Statement
*The Russian academic degrees of Kandidat Nauk and Doktor Nauk are equivalent to PhD.
Manuscript Submission:
OAO Izdatelstvo Meditsina,
Editorial Office of the
Problems of Virology
Journal (Voprosy Virusologii)
5 (bld. 14) Novoostapovskaya St.,
115088
Moscow, Russia
Email:
vopr.virusol@idm.msk.ru
We draw your attention to the fact that the cost of preparing an article for publication (scientific and literary editing, editing of translations, working with drawings and bibliography) is 5 thousand rubles.
The journal is indexed in the following international reference and information services:
Abstracts of Mycology, Adis International Ltd. Reactions Weekly, AgBiotech News and Information, AIDS & Cancer Research, CABI Abstracts on Hygiene and Communicable Diseases, CABI AgBiotechNet, CABI Animal Breeding Abstracts, CABI Animal Science Database, CABI Biocontrol News and Information, CABI Botanical Pesticides Abstracts, CABI CAB Abstracts, CABI Dairy Science Abstracts, CABI Environmental Impact, CABI Forest Products Abstracts, CABI Forest Science Database, CABI Forestry Abstracts, CABI Global Health, CABI Helminthological Abstracts (Online), CABI Horticultural Science Database, CABI Nutrition and Food Sciences Database, CABI Parasitology Database, CABI Poultry Abstracts (Online), CABI Protozoological Abstracts (Online), CABI Review of Medical and Veterinary Entomology, CABI Tropical Diseases Bulletin, CABI Veterinary Science Database, Chemical Abstracts (Print), Chemical Industry Notes, Chemical Titles, CSA Biological Sciences, CSA CSA Neurosciences Abstracts (Online) Cambridge Scientific Abstracts, Derwent Biotechnology Abstracts, EBSCOhost Biological Abstracts (Online), EBSCOhost Wildlife & Ecology Studies Worldwide, Elsevier BV EMBASE, ExcerptaMedica. Abstract Journals, Index Medicus, Index to Dental Literature, Index Veterinarius, Inpharma Weekly, National Library of Medicine PubMed, OCLC MEDLINE, Personal Alert, Pig News & Information, Reactions Weekly (Print), Review of Aromatic and Medicinal Plants, Small Animals, Thomson Reuters Biological Abstracts (Online), Thomson Reuters BIOSIS Previews, Thomson Reuters Zoological Record Online, Ulrich's International Periodical Directory, Journal Abstract (JA) of All Russian Institute for Scientific and Technical Information (VINITI ) of the Russian Academy of Sciences (Referativnyi Zhurnal of VINITI RAN, Scientific Electronic Library (
http://www.elibrary.ru
), Russian Index of Scientific Citation, Virology and AIDS Abstracts
Editor-in-chief: Lvov Dmitriy Konstantinovich
– MD, PhD, Prof., Academician of the Russian Academy of Sciences, Head of the Department of Ecology of Viruses, Head of Ecology and Epidemiology of Influenza Center, Ivanovsky Institute of Virology, N. F. Gamaleya Scientific Research Institute of Epidemiology and Microbiology (Moscow, Russia)
Editorial Board & Editorial Advisory Board
The journal focuses on current advances in virology in Russia and the rest of the world. It covers research into viruses and viral diseases in humans, animals, and plants. Emphasis is given to the results of experimental studies on various aspects of general and special virology. The journal also reports on new research methods, teaching techniques, and medical equipment and devices.
The journal promotes the implementation of advances in virology that aim to eliminate and reduce the incidence of infectious diseases and enhance their diagnosis, prevention, and treatment.
To attract the attention of virologists to relevant topics requiring further study, the journal publishes editors' notes and book reviews. The readership of the journal includes experts in virology (both human health providers and veterinarians), epidemiology, parasitology, pharmacology, biochemistry, and allied healthcare disciplines.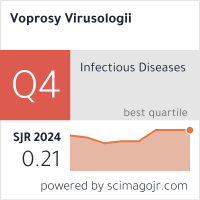 Full-text articles are available on the website of the Scientific Electronic Library